They say if you do what you love, you never work a day in your life. That's how I feel about writing romance. Not that crafting a novel isn't labor intensive, but I love making things up for a living.
Gore Vidal said, "Each writer is born with a repertory company in his head." Spending the day with my imaginary friends, discovering their secrets and sharing them with you is pure joy. It's made my path to my 20th published work an exciting adventure! Thanks for coming along with me on the journey that culminates in this 20Days/20Books Celebration.
Another group of people works very hard in the publishing realm. They are reviewers. Whether it's the pros at RTBOOKReviews or Pubishers Weekly, or the reading customers who share their experience with a book on Amazon, B&N.com or Goodreads, I appreciate them all. Positive or negative, they help other readers find books, so I bless their names.
Here's what reviewers had to say about Plaid to the Bone:
"Sensuality, sexuality, passion and mystery blend into a wonderfully entertaining tale."–RTBOOKReviews

"Both historical and paranormal readers will love this crossover tale." –Publishers Weekly
Want to see if you agree?
Plaid to the Bone is at: Kindle | Nook | iBooks | Kobo
And for my international friends: AmazonUK | AmazonCA | AmazonDE
 Theresa Romain
My writing buddy Theresa Romain pursued an impractical education that allowed her to read everything she could get her hands on. She then worked for universities and libraries, where she got to read even more. Eventually she started writing, too. She lives with her family in the Midwest, where she is working on her next book. This September, she'll begin a new historical romance trilogy with IT TAKES TWO TO TANGLE. In October, her third holiday historical romance—SEASON FOR SCANDAL—will be released.
Find Theresa at her website, on Facebook , and Twitter. 
SEASON FOR SURRENDER (Zebra, October 2012) back cover blurb:
HONOR AMONG ROGUES
Alexander Edgware, Lord Xavier, has quite a reputation—for daring, wagering, and wickedness in all its delightful forms. But the wager before him is hardly his preferred sport: Xavier must persuade a proper young lady to attend his famously naughty Christmas house party—and stay the full, ruinous two weeks. Worse, the lady is Louisa Oliver, a doe-eyed bookworm Xavier finds quite charming. Yet to refuse the challenge is impossible—he will simply have to appoint himself Miss Oliver's protector…

MISCHIEF AMONG MISSES
Louisa knows her chance for a husband has passed. But she has no desire to retire into spinsterhood without enjoying a few grand adventures first. When Lord Xavier's invitation arrives, Louisa is more intrigued than insulted. And once inside the rogues' gallery, she just may have a thing or two to teach her gentlemen friends about daring…
Print: amazon • barnes & noble • book depository • books-a-million • chapters indigo • indiebound • kensington • posman books • powell's • walmart • watermark
Ebook: google • ibook • kensington • kindle • kobo • nook
IT TAKES TWO TO TANGLE (Casablanca, September 2013) back cover blurb:

WOOING THE WRONG WOMAN…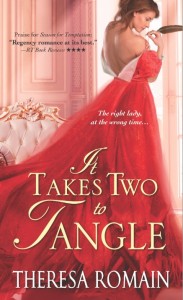 Henry Middlebrook is back from fighting Napoleon, ready to re-enter London society where he left it. Wounded and battle weary, he decides that the right wife is all he needs. Selecting the most desirable lady in the ton, Henry turns to her best friend and companion to help him with his suit…
IS A TERRIBLE MISTAKE…
Young and beautiful, war widow Frances Whittier is no stranger to social intrigue. She finds Henry Middlebrook courageous and manly, unlike the foppish aristocrats she is used to, and is inspired to exercise her considerable wit on his behalf. But she may be too clever for her own good, and Frances discovers that she has set in motion a complicated train of events that's only going to break her own heart…
Print: amazon • barnes & noble • book depository • books-a-million • chapters indigo • indiebound • posman books • powell's • sourcebooks • walmart • watermark
SEASON FOR SCANDAL (Zebra, October 2013) back cover blurb:

UNLADYLIKE RISK
Jane Tindall has never had money of her own or exceptional beauty. Her gifts are more subtle: a mind like an abacus, a talent for play-acting—and a daring taste for gambling. But all the daring in the world can't help with the cards fixed against her. And when Edmund Ware, Baron Kirkpatrick, unwittingly spoils her chance to win a fortune, her reputation is ruined too. Or so she thinks, until he suggests a surprising mode of escape: a hasty marriage. To him. On the surface, their wedding would seem to satisfy all the demands of proper society, but as the Yuletide approaches, secrets and scandals turn this proper marriage into a very improper affair.
Print: amazon • barnes & noble • book depository • books-a-million • chapters indigo • indiebound • kensington • posman books • powell's • walmart • watermark
Ebook: ibook • kensington • kindle • nook
Theresa is graciously offering a copy of SEASON FOR SURRENDER, which was a Smart Bitches' Sizzling Book Club Pick in November 2012, in print or ebook (Kindle or Nook), winner's choice. Open Internationally!
Touch of a Rogue
The second book in my Touch of Seduction series, Touch of a Rogue's reviews were a surprise to me. Publishers Weekly gave it a starred review and also named it one of their Top Ten Romances for Spring 2012!
Booklist raved: "The second in Marlowe's wonderfully original Victorian-set historical series is fueled by incendiary love scenes and an abundance of high-stakes, paranormal-laced danger."
And then RTBOOKReviews gave it a tepid 3 Stars…
Heavy sigh. (I don't hold a grudge. Besides, they just gave Plaid Tidings, my Oct 1st release, a glowing review with 4 1/2 STARS!)
Of course, I love the good reviews best, but all reviews help get the word out about a book. And ultimately, the only reviews that really matter come from readers.
The Prize
Today you could win a download of Plaid to the Bone from Kensington Publishing,  Theresa's Season for Surrender or my Touch of a Rogue, in either print or ebook. Your comment also enters you in the Grand Prize Drawing for a Kindle Paperwhite!
Here are some questions to get the discussion started: Do you post reader reviews on Amazon, B&N.com or Goodreads? Do you have a book blog where you share reviews? Do you follow certain review sites? Or do you have a personal review system to help guide your future book purchases?