Love Me by Cheryl Holt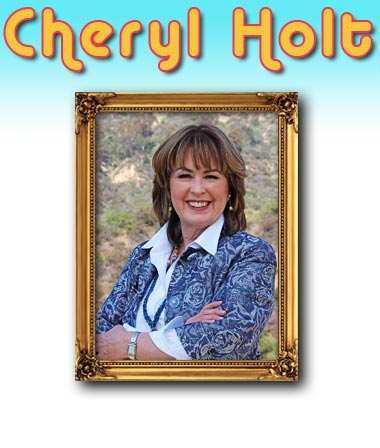 It's noon on the eastern seaboard and time for another terrific guest. Please welcome New York Times Bestseller Cheryl Holt to Read, Write, Love. Along with being a critically acclaimed author, she's also a lawyer and mom, and at age 40, with two babies at home, she started a new career as a writer. She'd hoped to be a suspense novelist, but couldn't sell any of her manuscripts, so she ended up taking a detour into romance (and we're so glad she did!), where she was stunned to discover that she has an incredible knack for writing some of the world's greatest love stories.
Her books have been released to wide acclaim, and she has won or been nominated for many national awards. She is particularly proud to have been named "Best Storyteller of the Year," by the trade magazine, Romantic Times BOOK Reviews.
Cheryl is joining the growing ranks of established authors who are breaking into self-publication. She's currently working on her next self-pubbed nove, LOVE ME.
LOVE ME, by Cheryl Holt
Brittney Merriweather has it all. Or at least she thinks she does. As the only daughter of the wealthy, notorious Merriweather family, she's grown up rich, spoiled, and entitled. With her two older brothers having recently married, it seems like the perfect time to tie the knot herself. So she's gotten engaged—to a boring, but eminently suitable man from her own class and station in life—and she thinks she's made all the right choices. Until she travels to the family's historic Denver home to plan her wedding and meets the man of her dreams.
Matt Monroe is a renowned bad boy and womanizer who's tough, dangerous, and too used to having his own way. For years, he's been waiting to cross Brittney's path, and when they finally meet, it's not an accident. He knows the terrible secret she doesn't know, and as he insinuates himself into her life, his plans unfold in ways she never could have predicted. Nothing is as it seems. Is he saint or sinner? Is he good guy or bad?
As their worlds collide and their passions ignite, she's about to learn that all the money in the world can't buy her what she really needs. Brittney gambles all on love. But is Matt a bet worth taking?
__________________________
Sounds wonderful, doesn't it? Cheryl tells me this story will be available in March! In the meantime, I suggest you pop over to CherylHolt.com and sign up for her newsletter so you'll be notified when Love Me comes out!
This hour, I'll also be choosing another reader to receive an ebook of my Maidensong for winner's choice of Kindle or Nook.
Here's what Booklist says about Maidensong:
"Brings both Scandinavia and the exotic eastern city known to the Vikings as Miklagard to life through her strong characters. Readers will watch for her next historical romance."
_______________________________
Remember today is Touch of a Rogue's release day!
Terrific 19th Century Frolic!
"Fast-paced from the moment the protagonists meet, readers will enjoy their gender war antics inside of a clever detective storyline in which the feminist and the clairvoyant rock each other's worlds."~ Genre-Go-Round
Publishers Weekly's
Top Ten Romances for Spring 2012
___________________________
Leave a comment or question for Cheryl to be entered in the hourly drawing!